May 22, 2016:

!!!!! A M A Z I N G !!!!!! Crown Imagine & Emily-Kate!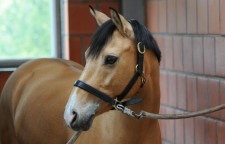 Emily-Kate Robinson and Crown Imagine (Fehkamps Coestelin x Monte Christo x Hattrick) did their first Pony FEI's together!
All the hard work with Judy Reynolds over the last weeks paid off and they did marvellous!!! So proud and happy to see them both getting on so perfectly and so excited what is yet to come!!!
Thank you Geraldine Robinson for making this all possible!!!
---
May 10, 2016:

Three more mares are in foal for 2017!

My homebred mare Waleria d'Amour, Walentyna and Lorettina H are in foal for next year!!!!!
---
May 6, 2016:

What a start! Crown Imagine and Emily-Kate Robinson do their first competitions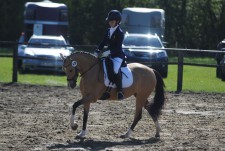 My lovely little pocket rocket Imagine and Emily-Kate came 4th and 9th this weekend at the competition in Dorsten. I am so incredibly happy that this two found eachother and that I now have a happy pony again. So excited for what the future of this two brings!!!!!
---
May 2, 2016:

I made a girl! Welcome Livya!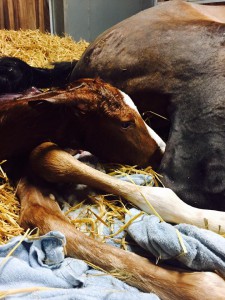 Elite/St.Pr.St. Lotti gave birth to a beautiful and very leggy filly tonight. Livya is by Clinton II and the first foal I "made" myself. Thank you Loona for another outstanding filly!!!!
---
May 1, 2016:

Of to new ventures for De Feliciano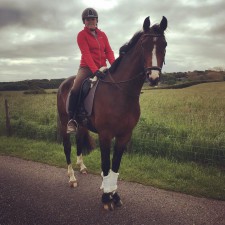 De Feliciano is now in training with the young upcoming dressage rider "Georgie Guest" in East Sussex! I am very excited to see this new partnership come along
---
April 22, 2016:

Dreams are my reality! Welcome Dream Supreme!!!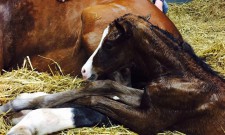 My St.Pr.St. Loona gave birth to a blingy colt by Dream Boy tonight! Thank you Loona!!!!
---
April 8, 2016:

First Mare in foal for 2017
April 6, 2016:

Crown Imagine under a new rider

Sadly Laura has outgrown Imagine so the decision was made to find her a new rider. Emily who also rides Weltmeyer's BlackJack for me is taking the ride over and will train together with Judy Reynolds.
---