The Stud
Since I was a little child, horses have been my passion. They accompanied me during my whole life and gave it a special note. A dream came true in founding 'Corradee Stud' near the Jurassic Coast of England in 2010.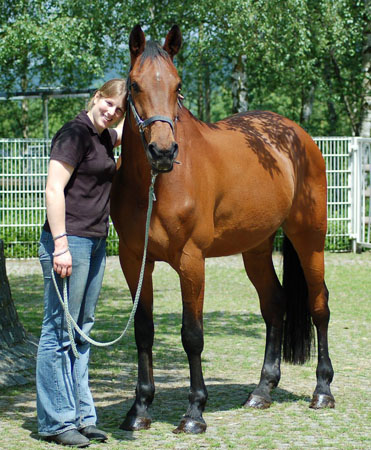 My first own mare "Corradee" by Corrado I raised my passion for horsebreeding by giving birth to my first self-bred colt by Lissabon in 2007. This marvellous mare passed away much too early and I decided to honour the horse of my lifetime by naming the Stud after her.
Breeding means thinking by generations. Thus, my broodmares have been thoroughly selected with regards to performance, health, character and proven dam lines. They are all a part of the family and are treated with utmost loving care. Looking that well after all of my broodmares comprises best quality feed, frequent farrier service and an individually administered health care including dental treatment, vaccination, as well as worming.
I give highest priority to a natural / horse-like keep that provides my horses with daily turnout in our vast fields all year round. Starting with their first day of life, the foals are turned out in the securely fenced meadows to lay the foundations for a healthy life. The Stud is situated close to the coast within the gently sloped hills of Dorset. The mild sea climate, few insects and best pasture land are an ideal base for breeding horses.
Every year we can hardly await the arrival of the foals from selected stallions. The latest technology of birthalarms and nights awake make it possible to overlook the birth-process of each foal. The breeder is perfectly happy when a healthy foal is born and I can't think of anything better than to accompany this miracle of nature. Every day, I spend a lot of time with the foals, so they don't stay shy for long and they learn the foal-ABC by themselves. Even the youngest benefit from a detailed management of feed and health care.
Every year I buy promising quality foals, who accompany and grow up with our 'Kindergarden'. A large open stable directly connected to a freely accessible field provide an ideal breeding setup. Daily handling assures here also the familiarity with each horse. An indoor school is enclosed, where we practice first loose jumping and lunging, playfully.